Many years ago, I was lucky enough to canoe through the Ardeche through the spectacular gorge. I remember the trip fondly and we agreed that the Ardeche seemed like a good destination as it wasn't too far away and there would be plenty of campsites. We found a site online and headed there through hot sunshine and then torrential rain. The site ended up being full so we drove on down the only road through the gorge looking in horror at the huge crappy looking sites beginning to think that it may be hard to find a site we liked. The they stopped. We had entered the national park and there was nothing at all other then spectacular views and 13 mountain goats.
Not really our sort of campsite
By this stage is was getting late and we were giving up on the camping for the evening and decided that Provence was going to be a better destination, but first we had to find somewhere to sleep as it was getting late.
Ardeche Gorge
Coming out of the national park there were a few places beginning to appear along the road and we spotted a castle perched on the cliffs across the river. After declaring that one should always "head for the castle when looking for somewhere to stay", we ended up in an idyllic little village with a room for the night and a pretty good meal.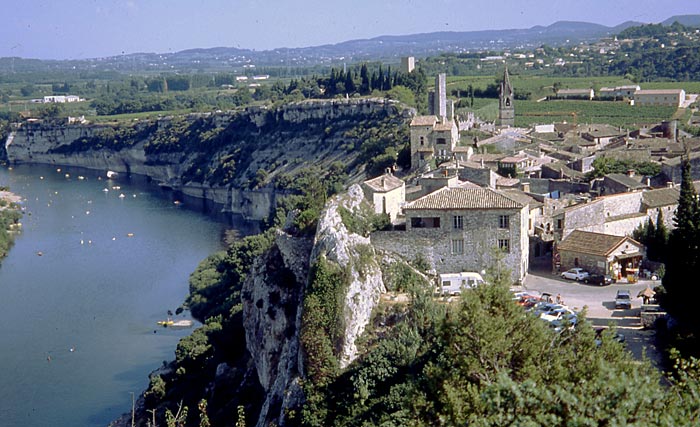 Aigueze